In de period 2010 – 2012, NEPK designed and commissioned two interactive touchscreen-based display cases plus presentation software. Inauguration of both display cases took place on November 29, 2012. The display cases feature a touch sensitive screen on which sixteen medals are displayed around a free central surface.
Selecting by "touching" one of the 16 medals by a visitor results in an enlarged digital image of that medal on the free central surface, plus related information on medallist and the medal subject or occasion. By touching, the visitor can "flip" the medal to show the reverse. He or she can also call up further associated information, pictures, video clips and related medals At any time the visitor can switch between information given in English or in Dutch.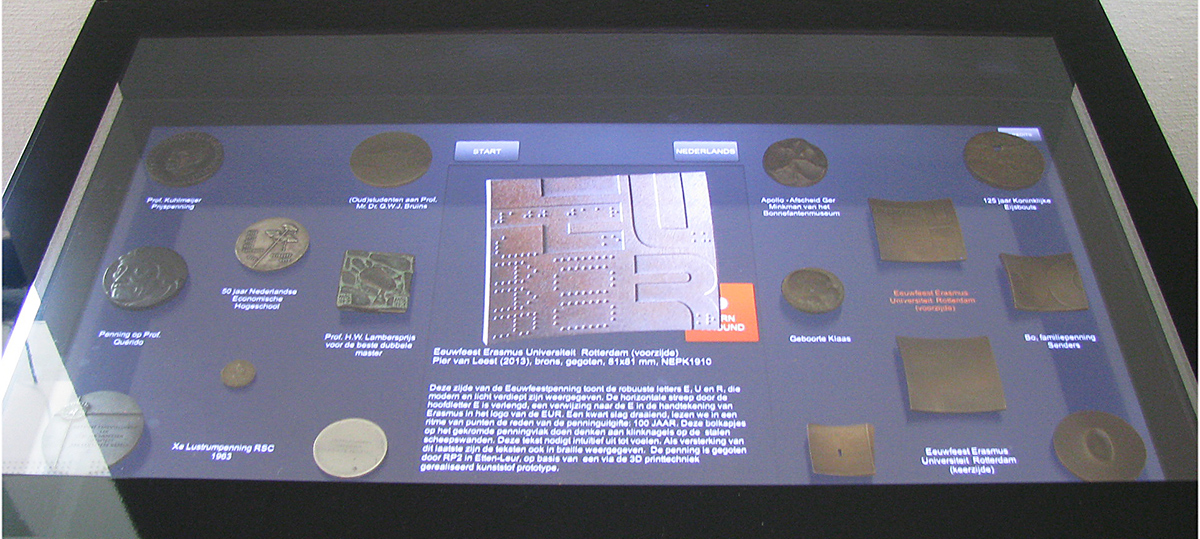 Present medal displays.
The smaller of the two display cases features the presentation "Highlights of the NEPK medal collection". Given the layered structure of the presentation, software the visitor can navigate through the presentation and select over 525 medals of interest with background information, medallist biographies, photographs and video fragments. In a similar way, the other display case shows the presentation "Eric Claus – Artist in bronze". The presentation includes some 135 medals and 35 sculptural objects of the artist. In a series of short video clips the artist is followed through the various stages of a sculpture project. For further information on opening times and on how to get to the university premises, please see the News item on the page Home.