Since: 28 February 2017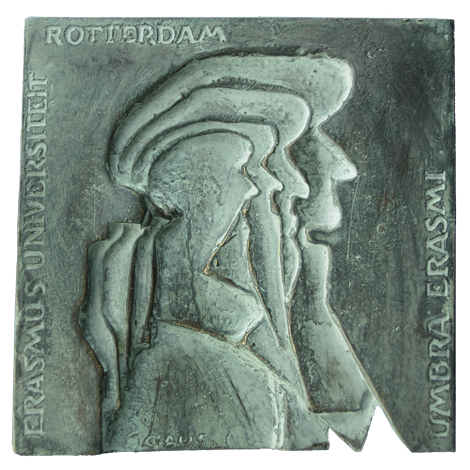 (Medal of Merit Erasmus University Rotterdam, by Eric Claus (1988), bronze, cast, 92 x 92 mm, inv. nr. NEPK1129)
The larger of the two interactive medal displays presents all medals, designs and sculptural objects  which in the course of many years the artist Eric Claus has designed for Erasmus University Rotterdam. The other medals and sculptural objects by the artist in the NEPK collection have been included in this presentation as well, as are medals from a private collection in the Rotterdam area. Extra: in a series of short video clips this unique artist, who turned 80 last year, discusses the various design and realisation stages of his major commission "Portrait Gallery Council of State" (The Hague, 2015).
Location: Erasmus Gallery, Erasmus Building, Burgemeester Oudlaan 50, Rotterdam
Times: Monday thru Friday, 9:00 a.m. – 5:30 p.m.
For location map and how to reach us:
https://www.eur.nl/wegwijzer/bereikbaarheid/